Red Cross Society honors Anja Lovén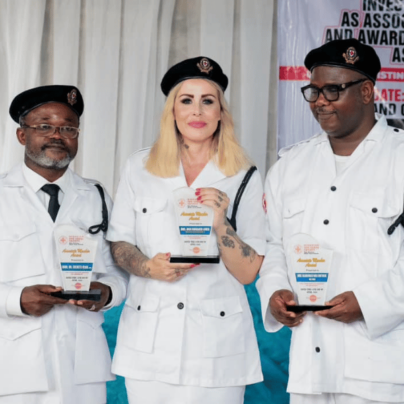 Red Cross Society honors Anja Lovén
In April there was a big celebration at Land of Hope.
One we had prepared for several days. Especially the children who had practiced a parade in honor of International Red Cross in Nigeria.
Founder of Land of Hope, Anja Lovén was appointed by the International Committee of the Red Cross in Nigeria as Associate Member and Matron and with that title honored for her many years of humanitarian work in Nigeria.
Next to her stand two important engineers, Engr. Dr. Ekerete Usak and Engr. Olanrewaju Wale Matthew, who were also honored by the Red Cross Society.
The celebration took place at Land of Hope because we are now a detachment of Red Cross Nigeria where all training and meetings are done. And we are so proud of that.
Hope and 12 other children from Land of Hope were named Red Crossers. This means that they have learned the rudiment of giving first aid and saving lives. A great responsibility that is very meaningful especially to our children.
There is no doubt that Land of Hope, Anja Lovén and David Umem together with the entire staff are making a big difference in Akwa Ibom.
We are grateful that the Red Cross Society acknowledges it with such important appointments.
Thank you to all of you who support our work. We save lives.
Your support makes a great difference